Earn money washing cars.
Increase your income and pay the bills by washing cars right in the neighborhood or wherever it's convenient.

You may have a neighbor with a car or two or three. They could be right next door, or down the block.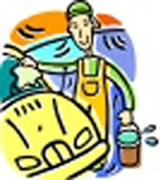 All you need is a garden hose and a bucket and some car wash soap and a sponge and dry towels.

If you are away from your outdoor water spigot, then you need to use theirs. That's it.

Wax job - earn an extra $10.00.

Window washing stuff in a spray bottle is a good idea.

You could offer interior auto detailing, as well.

Where I live people who do auto detailing can earn $100.00 per vehicle.

I know someone who washes his van right in the street in front of his house.

One afternoon he was in a good mood, and he washed the neighbors car at the same time.

The neighbor came out and gave him a $10.00 bill, and a "Thank You".

He told him that he could earn $10.00 every Saturday if he wanted to do the car.

The other neighbor has a driveway adjacent to his house and keeps 2 cars there.

Our man doesn't even have to use another spigot. It is so close that he can do both cars without dragging the hose and bucket etc. very far.

Add this endeavor to a few others and you will have a tidy income from your part time business.

This would go well with this other part time business.
Cutting Lawns and landscaping etc.

I knew an older gentleman who started a part time business as a caretaker.

His first client was for a property right next door to him. It gave him an easy part time income.

He used to ride over on his lawn mower with a little wagon on the back that held what ever he needed. Nice retirement job.