Flea Market or a Swap Meet
Earn money selling stuff at a flea market. Get paid in cash.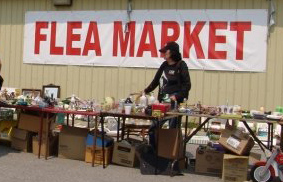 Flea markets are really fun, and the community is made up of interesting characters.

You can generate some income from a flea market.

They differ from place, to place. Some are outdoors.

They are laid out in a parking lot where you pay a small fee to set up your tables etc in a designated area.

Other flea markets run year round because they are indoors and out of the weather.

Get there early and find out who runs the place and who designates the spots.

You may have to register in advance, to get a spot if there is none available.

People who have booths will sell just about anything you can imagine from real junk to antiques.

You might even sell your car while you are there.

Some customers come there in a buying frenzy thinking they are going to get a real deal and end up taking home your junk lamp for $10.00.

You were going to throw it way, but it's a treasure to the buyer.
This is an upscale version of a yard sale or garage sale. Maybe it is not so much more upscale, but community oriented, and usually a friendly atmosphere to be in.
There are sellers who buy wholesale lots of factory seconds of just about anything to sell.
Here is a link that has a lot of resources for flea markets. www.keysfleamarket.com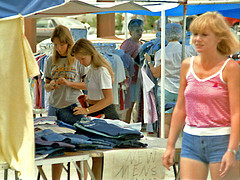 Some vendors buy from each other, and when a regular seller is getting out of the business you can often get the whole lot of stuff that they have very cheaply.

The daily or weekly rentals are much cheaper than renting a store. Learn more here about a Flea market.

Go to the local flea markets in your area first before you jump in to the business and get a feel for the atmosphere and potential earnings that you could generate from it.

Before you spend money, plan what you are going to sell, and make yourself a list of resources for products.

Check to see if you can get a spot in the flea market.

Set this up as a business with a plan.

Here are some tax advantages. Tax deductions

You'll need transportation, and it is fun if you do it with another person to share the work carrying stuff around.

Good luck!